Country information and real estate purchase Romania
Romania - Eastern Europe: bordered to the north by Ukraine, to the east by Moldova, to the southeast by the Black Sea, to the south by Bulgaria, to the southwest by Serbia and to the west by Hungary.
VAT Romania: 24 %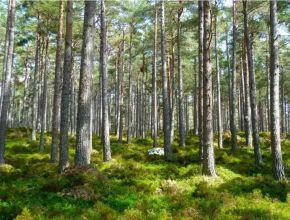 Maintained mixed forest with 220 ha - rou-ra-a57310010 Arad RomaniaPrice
1.100.000 EURLanguage in Romania: official language is Romanian. In the border areas sometimes Hungarian, Serbian, Ukrainian, Bulgarian, Armenian or Yiddish. French is widespread, in the Banat (southwest Romania) and in Transylvania a lot of German is spoken, in the tourist areas also English.
Costs when buying property in Romania?
Buying property in Romania:
For EU citizens, there are no more requirements for the purchase of real estate. The time limits for land acquisition or agricultural land restrictions have been abolished.


Cost of purchasing:
- annual property tax, depending on the region and use. Building land up to 0.25 euros per m².
- Brokers in Romania: buyer's commission approx. 3% plus 24% VAT
- Notary: between 0.5 and 2%
Lawyer: for the examination of the legal situation, burdens and ownership. This creates a sales contract, cost between 50 and 200 euros.
Romania is divided into 41 districts - judet, judete - and the capital Bucharest:
Bucuresti - Ilfov
Bucuresti
Ilfov
Centru
Alba
Brasov
Covasna
Harghita
Mures
Sibiu
Nord-Est
Bacau
Botosani
Iasi
Neamt
Suceava
Vaslui
Nord-Vest
Bihor
Bistrita-Nasaud
Cluj
Maramures
Salaj
Satu Mare
Sud Muntenia
Arges
Calarasi
Dâmbovita
Giurgiu
Ialomita
Prahova
Teleorman
Sud-Est
Braila
Buzau
Constanta
Galati
Tulcea
Vrancea
Sud-Vest Oltenia
Dolj
Gorj
Mehedinti
Olt
Vâlcea
Vest
Arad
Caras-Severin
Hunedoara
Timis
Country Information and Real Estate Purchase Romania Status: 2018