Costs for the purchase of real estate in Spain
Spain: is the third largest country in Europe and is located on the Iberian Peninsula in the southwest of Europe. Especially popular are the islands of Mallorca and Ibiza, as well as the Canary Islands.
Spain real estate on the Costa Blanca
Value added tax in Spain: 21 %

Languages in Spain: The official language is Spanish (Castilian). Catalan, Galician and Basque are spoken regionally; in tourist areas, English and German are sometimes spoken.

Villa la Cala with sea view for sale - AJ066-G03726 Cumbre del Sol SpainCommission free

Price
3.882.000 EUROnline visit
Buying real estate in Spain: Vacation properties are particularly sought after. Mild climate, good infrastructure, beautiful landscapes have increased the demand. Before signing the contract, it is essential to check the ownership conditions. Notary publics must present these according to Spanish law. Ask for proof that the seller has paid the property tax in the last 5 years. For condominiums, check that the previous owner has always paid the property management fees. A Spanish peculiarity is the ad valorem tax. This is usually borne by the seller. Pay attention to contractual regulations. Also check if there is a building permit for the property. When signing the contract, a down payment of approx. 10% of the purchase price is usual.

How much are the additional costs for the purchase of real estate in Spain?
- Real estate transfer tax (Impuesto sobre Transmissiones): 8 - 10%
- Stamp tax (Acto Juridicos Documentados): 1,5 and 2%
- Registration in the land register: 0,5%
- Notary: 0,8 - 2 %
- Possibly lawyer approx. 1 %
- Possible costs for translation
- Fee for Spanish tax number, NIE

Spain is divided into 17 autonomous regions (Comunidades Autónomas) and the two autonomous cities (Ciudades Autónomas) of Ceuta and Melilla. The communities are further divided into a total of 52 provinces.

Benimeli country house Finca - CCCLE-32-G03769 Benimeli SpainCommission free

Price
290.000 EUROnline visit
Andalucía (Andalusia): is the southernmost of the autonomous communities on the mainland. Capital: Seville. Provinces: Almería, Cadiz, Cordoba, Granada, Huelva, Jaé, Málaga and Seville.

Aragón (Aragon): corresponds to the former Kingdom of Aragon. Capital: Zaragoza. Provinces: Huesca, Teruel and Zaragoza. Asturies (Asturias): is identical to the province of Asturias (formerly province of Oviedo). Capital: Oviedo. Province: Asturias.

Illes Balears (Balearic Islands): Mallorca, Menorca, Ibiza, Cabrera and Formentera. Capital: Palma de Mallorca. Province: Islas Baleares.

Euskal Autonomia Erkidegoa (Basque Autonomous Community): Capital: Gasteiz / Vitoria. Provinces: Araba / Álava, Gipuzkoa / Guipúzcoa, Bizkaia / Vizcaya.

Islas Canarias (Canary Islands): group of islands in the Atlantic Ocean, geographically belonging to Africa, politically to Spain. Capital: Las Palmas de Gran Canaria and Santa Cruz de Tenerife. Provinces: Las Palmas and Santa Cruz de Teneriffe.

Cantabria (Cantabria): Capital: Santander.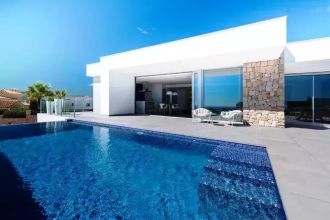 VideoCosta Blanca new luxury villa for sale - AM169-G03726 Benitachell SpainCommission free

Price
1.115.000 EUROnline visit
Castilla-La Mancha: historical central Spanish landscape Castile = New Castile.The landscape of the Mancha became famous by Don Quixote from the Mancha. Capital: Toledo. Provinces: Albacete, Ciudad Real, Cuenca, Guadalajara and Toledo.

Castilla y León (Castile and Leon): historical central Spanish landscape Castile = Old Castile. The western half landscape León. Capital: Valladolid. Provinces: Avila, Burgos, Leon, Palencia, Salamanca, Segovia, Soria, Valladolid and Zamora.

Catalunya (Catalonia): historical autonomous community. Capital: Barcelona. Provinces: Barcelona, Girona, Lleida and Tarragona.

Extremadura: one of the poorest regions. Extremadura 8.3% of the Spanish land mass, only 2.6% of the population of Spain. Capital: Merida. Provinces: Badajoz and Caceres.

Galicia (Galicia): high mountain ranges that separate Galicia from the rest of Spain. Capital: Santaigao de Compostela. Provinces: A Coruna, Lugo, Ourense and Pontevedra.

Benissa fantastic villa, sea view, pool - CHCL139003720 Benissa SpainCommission free

Price
1.225.000 EUR
Comunidad de Madrid (Autonomous Community of Madrid): province of the same name and metropolitan area around capital Madrid. Murcia: is identical with the province of the same name. Approximately 300 sunny days per year. Capital: Murcia.

Navarre: part of the historical kingdom of Navarre, south of the Pyrenees. Capital: Pamplona. Province: Navarre. La Rioja: composition of "Río-Oja", means "Oja River", flowing through the region into the Ebro. The climate is dry with continental influence. Capital: Logroñ. Province: La Rioja.

Valenciana (Valencian Country): located on the Mediterranean coast. Capital: Valencia. Provinces: Alicante, Castellon and Valencia.

Ceuta: autonomous Spanish exclave on the Mediterranean coast of Africa, near the Strait of Gibraltar. Politically part of Spain, geographically part of Africa. Capital: Ceuta.

Finca villa 5 min. to golf club - CHJU69-G03750 Pedreguer SpainCommission free

Price
650.000 EUROnline visit
Melilla: politically part of Spain, geographically part of Africa. Capital: Melilla.

Costa Blanca: traditionally white-painted houses and strong light conditions, which make the sand appear white outshining. This contrast between blue sea and white coast is also represented in the blue and white flag of the province of Alicante ("City of Light"). It is therefore sometimes referred to as the "Gulf of Alicante". Costa Blanca mild Mediterranean climate a favorite vacation destination of tourists from Spain and all over Europe. Since the 50s, many Germans have settled in this part of Spain.